Govt Jobs in Telangana 2022: Here you will find all the latest and upcoming Govt Jobs in Telangana. Every year according to the availability of vacant posts the state government of Telangana, Hyderabad, will release employment notifications and hire suitable aspirants. So, aspirants, those who are willing to get a Govt Jobs in Telangana are advised to follow this page for not to miss any latest Telangana Govt Jobs notifications.  Therefore on this page, we will give exact information about the TS govt jobs according to Educational Qualification wise. Such as the designation of the post depends on the qualification, people with a different educational background can find the latest government jobs in Telangana. Therefore you can check other important details like Age limit, Application Fee, the procedure to apply, Stipend/salary, how to download the admit cards, selection process, and the most important preparation tips for all competitive exams in Telangana. 
Board
Post Details
NHM Telangana
Post Name : District Quality Assurance Manager
Vacancies : 12
Qualification : Post Graduation
Last Date : 20/05/22
Get Details
TSSPDCL
Post Name : Assistant Engineer
Vacancies : 70
Qualification : B.E/B.Tech
Last Date : 03/06/22
Get Details
BDL
Post Name : Project Diploma Assistant
Vacancies : 80
Qualification : Degree/Diploma
Last Date : 04/06/22
Get Details
Telangana High Court
Post Name : Civil Judge
Vacancies : 50
Qualification : Law LLB
Last Date : 06/06/22
Get Details
MANAGE
Post Name : Director
Vacancies : 07
Qualification : Graduation/ Post Graduation
Last Date : 22/05/22
Get Details
ESSO
Post Name : Research Associate
Vacancies : 06
Qualification : Ph.D
Last Date : 31/05/22
Get Details
TSPSC
Post Name : Deputy Collector
Vacancies : 503
Qualification : Bachelor's Degree
Last Date : 31/05/22
Get Details
Telangana Police
Post Name : Prohibition & Excise Constable
Vacancies : 614
Qualification : Intermediate
Last Date : 20/05/22
Get Details
Telangana Police
Post Name : Transport Constable
Vacancies : 63
Qualification : Intermediate
Last Date : 20/05/22
Get Details
APS Bolarum
Post Name : Teacher
Vacancies : 50
Qualification : Graduation/ Post Graduation
Last Date : 25/05/22
Get Details
Telangana Police
Post Name : Police Constable
Vacancies : 15644
Qualification : Intermediate
Last Date : 20/05/22
Get Details
Telangana Police
Post Name : Sub Inspector
Vacancies : 587
Qualification : Degree
Last Date : 20/05/22
Get Details
A list of latest Employment News This Week State Government / Central Govt Jobs in Telangana 2022 State / Central . job notifications & online forms
View all Notifications from Employment News
+ List of Expired Jobs in Telangana
Old/Arvhived Notifications :
(TS Govt Jobs ) 16-05-2022 The government of Telangana, Hyderabad recruits freshers and experienced persons every year through Telangana Govt Jobs several notifications. Telangana state residents can apply to the jobs which are released by Telangana State Public Service Commission (TSPSC).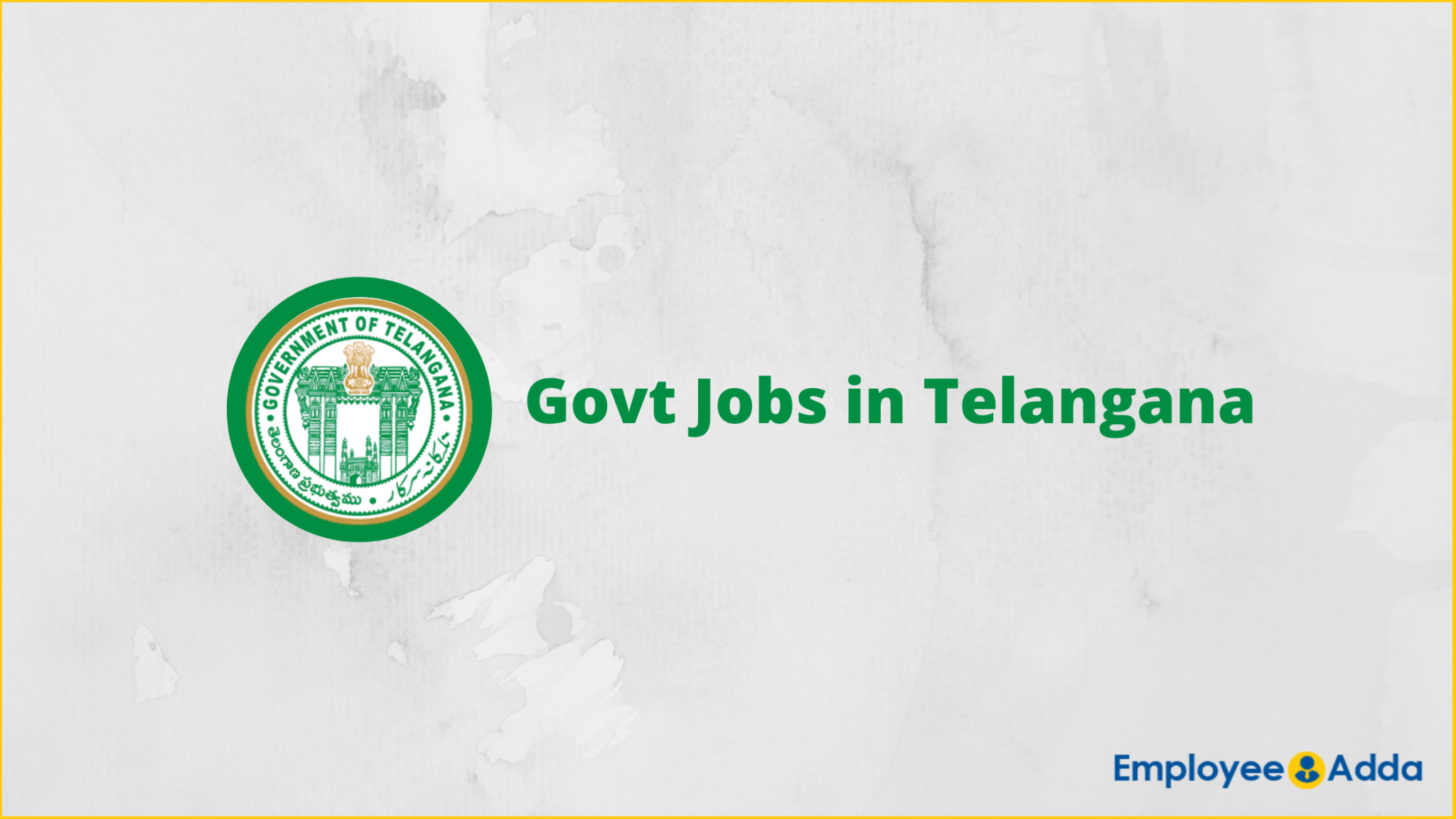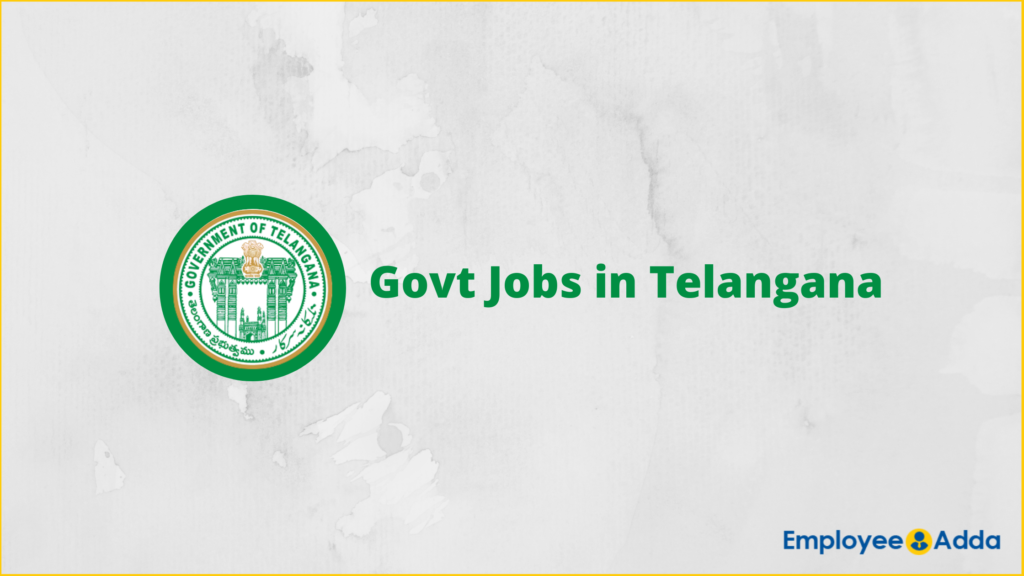 The commission conducts various competitive exams for the recruitment process in various departments. TS government jobs are released based on qualifications from 10th to P.G. So, eligible persons with the respective qualification can search for the related job and apply for it. We will daily update both state and central government jobs in Telangana.
Department wise Govt jobs Telangana:



Several departments are included in the Telangana state, that releases notifications through TSPSC official website  www.tspsc.gov.in or employment news this week. The Commission is formed in the year 2014.  The applicants who apply within the state should get registered for One Time Registration (OTR). For registration, all the basic details are to be entered. The different departments that release notifications by Telangana govt are TSRTC, ECIL, TSPSC, TSSPDCL, TSGENCO, employment news Telangana, etc. So, you can grab all Telangana state job updates here.
Government jobs in Telangana for Graduates:
Every graduate is given a good opportunity of finding a better job in Telangana state with different designations. Contenders can grab the opportunity of planning the future with the latest govt jobs in Telangana. Certain positions like Technicians, Accountant, Line Inspectors, and Testers are recruited by the department of TSSPDCL. All the searches related to the qualification, experience for Telangana jobs can be made in our category.
Central government jobs for Telangana state:
The people who are residing in the State of Telangana can apply to the Central government jobs of various departments. Some of the Central government sectors that release notifications are UPSC, India post, Banks, Railway, the Navy, Army, SSC, Universities, etc. Depending on the qualifications and eligibility one can search and apply for the concerned vacancy. Employment News is a weekly that gives the latest ts employment news recruitments state and central wide. It is available in printed and digital versions.
About Telangana:
Telangana state is formed with 33 districts. They are Adilabad, Bhadradri-Kothagudem, Hyderabad, Jagtial, Jangaon, Jayashankar, Bhoopalpally, Jogulamba-Gadwal, Kamareddy, Karimnagar, Khammam, Komaram Bheem Asifabad, Mahabubabad, Mahabubnagar, Mancherial, Medchal, Medak, Nagarkurnool, Nalgonda, Nirmal, Nizamabad, Peddapalle, Rajanna Sircilla, Ranga Reddy, Sangareddy, Siddipet, Suryapet, Vikarabad, Wanaparthy, Warangal (Rural), Warangal (Urban), and Yadadri-Bhuvanagiri. In the year 2014 Telangana state is partitioned as Andhra Pradesh and Telangana. The capital of Telangana is Hyderabad.
How to get TS govt jobs updates:

The employeeadda provides all the present and upcoming information on Telangana govt jobs. The information related to the state government and central government jobs like the Indian Navy, Indian Army, UPSC (Union Public Service Commission), SSC, Railway, as well as state government jobs TSPSC, TS Forest, TS Transco, TS RTC, etc. Any person can subscribe to get the job alerts by clicking on the bell icon, which is on the right end of the page. The candidates will receive the alerts by mobile or e-mail id.  
Getting a job in the government sector is a dream for many people. Every year thousands of graduates are getting ready to participate in the competitive exams. But according to today's competition candidates have to put more effort into making their dreams come true.  Thus we are always ready to help those serious job seekers who are searching for jobs in Telangana. As we know Hyderabad is the capital of Telangana and it is the hub for many government organizations. So according to the availability of vacancies, many TS government organizations will issue job advertisements. But it's somewhat difficult to collect genuine information from different websites.    
Therefore we will gather the latest and upcoming Govt Jobs in Telangana from various sources and make available on this page. Regularly our team will update this page with the latest TS govt jobs. So that it is easy for job seekers to check the job updates according to their education qualification such as 8th class, 10th class, 12th class, degree, B.Tech, Graduation, LLB, BDS, post-graduation pass, MA, and MBBS. Therefore it is a golden opportunity for Telangana job seekers to make their dream come true.
Telangana govt jobs 2020: After the bifurcation of the Telangana State, the employment opportunities drastically increased for educated people. So in order to fill up all the vacant positions with eligible and enthusiastic persons, every year the Telangana State will issue public job notifications. Thus on behalf of the state government Telangana The Public Service Commission will release several numbers of opportunities to employ the aspirants for various positions. 
Therefore Group 1, Group 2, Group 3, Group 4 are the significant exams for many positions like Pollution Control Board, Panchayat Raj, TS Gurukulam, Hostel Welfare Officer, Assistant Professor, Lab Technician, Assistant Manager, Constable, SI, ASI, and many more.  
As like every year this year also state government of Telangana will announce job notification for various departments like Agriculture and Cooperation, Energy, Endowments, Higher Education, Finance, Housing, Law, Health, Medical & Family Welfare, Panchayat Raj, and Rural Development, Information Technology, Labour, Revenue, Transport, tourism, and Social Welfare.
Hence, the people of different educational backgrounds can apply for various latest govt jobs in Telangana. Thus, the state Government of Telangana is giving a good opportunity for the candidates who want to develop their career in the TS government sector. But before applying for any job notification it is important to check the exact details about the notification and then apply for any Govt Jobs in Telangana. 
Department-wise Jobs in Telangana: after the formations of Telangana state in 2014 the economic conditions of the state have changed. Which in turn useful to establish for many government head offices and multinational companies. It is a great opportunity for Telangana people who are hopeful to build their careers in the government sector. Check the below-mentioned government departments in Telangana.   
Agriculture & Cooperation

Centre for Educational Development of Minorities

Archives & Research Institute

Consumer Affairs Food & Civil Supplies

Departmental for Women, Children, Disabled welfare 

Board of Intermediate Education

Archaeology and Museums

Boilers

Animal Husbandry & Fisheries

Backward Classes Welfare

Environment, Forests, Science & Technology

Health, Medical, and Family Welfare

Higher Education

Finance

General Administration

Horticulture

Information Technology, Electronics, and Communications

Energy, Infrastructure, and Investment

Housing

Industries and Commerce

Law

Revenue department 

School of Education and Social Welfare

Skills Development, Entrepreneurship & Innovation

Transport, Road & Buildings

Water Resources and irrigation 

Panchayat Raj and Rural Development

Planning and Public Enterprises

Monitories Welfare

Municipal Corporation and Urban Development

TS Tourism, Arts and Culture
TSPSC Govt Jobs: in 2014 after the formation of Telangana state, the Telangana Public Service Commission came into existence. It is the authorized organization to conduct employment exams for many TS state government departments. Every year TSPSC will announce employment notification and hire eligible candidates for several vacant posts. TSPSC will conduct Group 1, Group 2, Group 3, and Group 4 exams on the basis of designations. 
Group-1 jobs: As we know TSPSC Group-1 is conducted to employ civil servants like Mandal Parishad Development Officer, Deputy Collectors, District level officers, and District Registrars, etc.   
Group-2: it is conducted to employ aspirants for Executive and Non-Executive jobs in several departments of Telangana
Group-3: it is conducted for the recruitment of Panchayat Secretary (Grade-VI), Welfare and Education Assistant, Digital Assistant, revenue assistant across Telangana.
Group-4: it is conducted for hiring ground level staff like Jr Accountants in Treasures and Accounts subordinate service, Junior Assistants in Social Welfare Dept, and Junior Assistants in Fire Dept. Etc.
List PSC Jobs in TS
Vigilance Commission

Police department

State Legal Services Authority

Staff Selection Commission

Administrative Tribunal

Water Tribunal 

Official Language Commission

State Human Rights Commission

Tax department

Judicial department

Information Commission

State Commission of SC's & ST's

Women's Commission
Latest TS Govt Jobs 2020-District wise: find district wise latest Govt Jobs in Telangana. There are 33 districts in the state of Telangana. If you are willing to work in our own district and looking for the latest TS Govt Jobs in your district. Then follow this page, we will publish all government recruitments notifications according to district wise without any late. So, job aspirants are advised to stay updated and grab the information before the competitors do.
Hyderabad

Nagarkurnool

Rajanna Sircilla

Medak

Ranga Reddy

Medchal

Sangareddy

Peddapalli

Vikarabad

Warangal

Nirmal

Suryapet

Nalgonda

Siddipet

Jayashankar Bhoopalpally

Mahbubnagar

Wanaparthy

Jangaon

Jagtial

Bhadradri Kothagudem

Adilabad

Mahabubabad

Nizamabad

Material

Jogulamba Gadwal

Khammam

Yadadri Bhuvanagiri Karimnagar

Kamareddy

Komaram Bheem Asifabad
PSU's jobs in Telangana: Public Sector Undertaking (PSU) jobs provide a good working environment and the best career growth opportunities to people. Many PSUs like HPCL, WBSEDCL, ONGC, BHEL, MDL, Power Grid, etc. Will recruit both freshers and experienced aspirants for various designations such as assistant manager, Executive trainee, and Engineering posts. So as like every year this year also many PSUs in Telangana are going to hire talented youth. Therefore, aspirants, who are preparing for PSU jobs are advised to check all the information in the below section.   
Telangana State Renewable Energy Development Corporation Ltd., (TSREDCO)

Telangana Residential Educational Institutions Recruitment Board (Trei-Rb)

Telangana State Public Service Commission (TSPSC)

Transmission Corporation of Telangana

Telangana State Power Generation Corporation Limited

Telangana State Council of Higher Education 

Telangana State Southern Power Distribution Company Limited (TSSPDCL)

Telangana High Court

Telangana State Northern Power Distribution Company Limited (TSNPDCL)

Telangana State Cooperative Apex Bank Limited

Telangana Tribal Welfare Residential Educational Institutions Societies

Telangana State Road Transport Corporation (TSRTC)

Telangana Forest Department

Security Printing Press, Hyderabad

Telangana Police (Information Technology & Communications)

Telangana State Biodiversity Board

Telangana Special Protection Force

Telangana State Pollution Control Board

Telangana Excise Academy

Government Jobs For Doctors In Telangana
Telangana Health Department Recruitment 2022
Telangana Medical Officer Recruitment 2022
Www.health.telangana.gov.in Govt Jobs In 2022
Govt Medical Officer Posts In Telangana
Contract Medical Officer Jobs In Telangana
Central government jobs for Telangana state: people who are residing in the State of Telangana can apply to Central government jobs. Many Central government departments India post, Banks, UPSC, Railway, SSC, Navy, Army, air force, Universities, etc. will recruit eligible aspirants for various jobs. Depending on the educational qualifications people can search and apply for central government jobs. 
Bank Jobs in Telangana: The banking sector provides huge employment opportunities to Telangana state people. Almost all public sector banks like Andhra Bank, Indian Bank, Indian overseas bank, Canara bank Syndicate Bank, UCO Bank, Union Bank of India (UBI), United Bank of India, Vijaya Bank, and State Bank of India, etc. have their branches in Telangana. 
To recruit the vacancies in all these banks IBPS will conduct the common recruitment test. Therefore people those who are interested to get bank jobs like Clerk, Assistant, Bank Assistant, Cashier, Customer Service Representative, Officers, IT Officer, Probationary Officer (PO), Management Trainees (MT), Finance Officer, Law Officer, bank Consultants, Various Level of Managers, and Director Etc. Are advised to follow this page. 
Eligibility Criteria for Govt Jobs in Telangana: before applying for any job, it is very important for every candidate to check the eligibility criteria. Because educational qualification and age limit completely varies for the post to post and it depends on the recruiting organization. So applicants who are aspiring to grab a Telangana government job must have qualifications along with the specified age limit.
Educational Qualification for TS Govt Jobs: educational qualification completely changes according to the designation of the vacancies. Such as 10th class pass or 12th class pass is enough for ground-level jobs like group-4 level posts and graduation is necessary for manager level posts. However, the state government of Telangana is providing job opportunities for all educated people who passed SSC/10+2/ 10th class/ ITI/ Diploma/Degree/ MBBS/ BE/ BDS/B.Sc/ LLB/B.Tech/ ME/ M.Tech/ PG/MA/M.Phil/Ph.D.
Age: The aspirant's age should be between 18 years to 42 years. Therefore age relaxation for ST/SC/OBC/Physically Handicapped persons/Telangana govt employees/Ex-Servicemen will be applicable according to the rules and regulations.
The selection process of Latest Govt Jobs in TS: selection process depends upon the recruiting organization. Some departments will appoint suitable persons depending on the performance in the written exams. But many organizations are conducting written/interview/group discussion.
 So for the detailed information, we are giving the standard procedure for the selection. After the completion of the application process, the respective departments will conduct the screen test for all applicants. Here, aspirants, who secured minimum cut-off marks will be allowed to take the next round such as the mains exam/document verification/personal interview. So whatever the qualifying rounds may be, according to the merit list, competitors will be selected for TS govt jobs. 
Written Examination (CBT or Offline)

Preliminary/ Screening Test (Objective Type)

Medical Test

Trade/ Skill Test

Physical Efficiency Test

Group Discussion/Typing Test

Main Examination (Objective or Descriptive)

Physical Standard Test

Documents Verification Process
Documents required for Latest TS Govt Jobs: aspirants are advised to check the list of general Documents that are compulsory to apply for Telangana Government Jobs.
10th/SSC Marks memo 

12th Marks memo

Graduation Marks List

Scanned copy of Photograph

Valid Mail Id and Mobile Number (If Required)

Address proof (Aadhar card or ration card)

Disability Certificate (for disability candidates)

Date of Birth Certificate

Scanned copy of Signature

Cast Certificate (if reservation applies)
Preparation Tips for Latest Govt Jobs in Telangana: according to the availability of vacancies many govt departments will issue job advertisements. Invites the applications from all eligible and interested aspirants and after the successful completion of the application process. Every contender will think about how to qualify for the exam. So in order to help serious aspirants on this page, we will give some important preparation tips. Such as, how to start the preparation, how to score maximum marks, how to manage time, time table, and mock exam details. So check the below-given details without late.
Determination and dedication is the first thing to achieve the TSPSC/TS Government job. Coaching institutes are not necessary if you have a clear strategy to achieve your target.

Applicants have a proper idea regarding the syllabus, books/study material

Perfect planning and practice is required to achieve this target, planning could be time plan/dividing your syllabus/ selecting or buying a standard book

Give equal importance to every subject and read the newspaper daily 

Try to revise every topic after its completion and go for a mock exam which helps you to get more marks

Spend quality time with books that are 6 to 8 hours of quality time is more than enough for completing the syllabus 

Take a break for every 2 hours as it refreshes your mind and boosts your concentration

Try to avoid social media and mobiles 

Sufficient sleep will give you peace of mind so maintain daily 8 hours of good sleep

Attend more mock tests and solve previous year question papers

Reach the exam center 1 hour earlier to the exam and give your bent in the exam.
Application procedure for TS govt Jobs: Previously many government departments accepted only offline application forms. But after digitalization in India online mode of application made everything easy and comfortable. Therefore here you can check the details for the online application process for TS govt jobs. Even though it is an online procedure aspirants have to submit the applications before the last date. 
visit the recruitment board official website 

On the home page, navigate to the Careers/recruitment option

Click on the latest notification which you want to apply for

Enroll your details if you are a new user

Next registration ID and password will be sent to your registered mobile number

Enter your registration Id details and password to log in

Then click on Apply Online Link

Enter your educational details, personal details, permanent address, Aadhar card number, scanned photo, and signature in the registration page

Upload the scanned copies of documents (if necessary) and pay the application fee using a debit card or credit card or net banking

Verify all entered information and click on the submit option

Finally, take the print of the submitted application form for further reference.
Govt Jobs in Telangana FAQs
Why Employeeadda for Govt Jobs in Telangana?
Ans:   all latest and upcoming TS government job notifications are available on the Employeeadda page. Regularly we will update each and every employment notice on this page. So Telangana job seekers are advised to follow www.employeeadda.com for not to miss any latest information.
Is fresher's are eligible to apply for TSPSC jobs?
Ans:   Yes, both freshers and experienced candidates can apply for TSPSC job notifications. 
Bank jobs information is available in employeeadda
Ans:   Yes, aspirants can check all IBPS notification details in Employeeadda
Can I apply for TSPSC group-2 and Group-3 notifications at a time? 
Ans:   Yes, you can apply for both. But before submitting the application check the educational qualification. Because it varies from post to post.
How do I get alerts regarding Govt Jobs in Telangana?  
Ans: applicants have to subscribe employeeadda and click the bell icon on the right side of the page. Then you will be notified whenever the newest notification is released.